Five unique ideas for your wedding Car Hire service
Weddings are truly special for each couple. From planning the entire wedding day months in advance to organising every contractor, setting, meals and more just the way want it to be – it is a once in a lifetime experience that you never forget.
Out of all the planning and preparations, having the perfect wedding limousine in Sydney is one of the most important things to consider. Lets face it, arriving to the church on time, the reception and departures are all integral in making your special day run like clockwork. After all, it is a special day! You can make your wedding car hire even more fun and memorable for your guests, and we will tell you how.
Here are four unique ideas for your wedding cars Sydney service;
Match the transportation's décor to your event's theme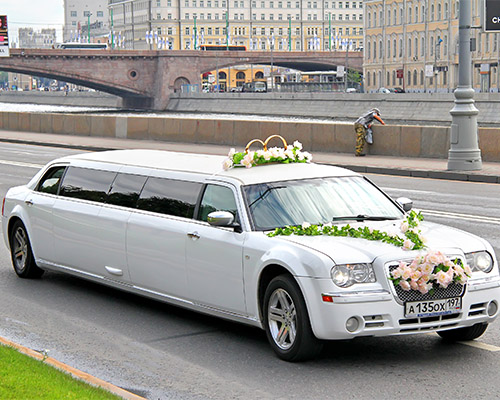 A great idea is to match your limo service with your wedding and its theme! If you are having a grand and luxurious wedding, you may choose one of our Chrysler wedding car fleet of luxury limousines. A comfortable, classy and high-end limousine ride will be most memorable for you and finance' as well as the awe of all your guests forever! You can also consider the location of your wedding and how many guests will be travelling. For example, a getaway wedding can have multiple cars and limos for the whole family or as simple and classy as a convertible for two.
Add a personal touch
What is a wedding shuttle service without a personal touch? Use this moment to enlighten your guests with the journey of your partner and you together. Decorate the limo with a personal touch. Just so you know, our wedding limousines already come with white ribbon, wheel cover and red carpet to match, not to mention the refreshments on board and a professional chauffeured driver.
Bring the party in the Limo
Who said that the party only begins at the wedding venue? Start the party well in advance by bringing it to your limousine! Choose some flashy party music and a stocked bar for people to enjoy the ride to the venue. This would excite everybody about the wedding even more, and they will already be in a party mood as they arrive for the wedding!
Let your photographer be on duty in the Limousine and car hire
Including your photographer in the ride experience should be more fun than it is. The limousine is the one place where everybody looks their best and have plenty of time in hand. You can utilise this opportunity by telling your photographer to clock pictures of everybody in the shuttle, having a fun time and looking their absolute best!